Restorative Dentistry - Shorewood, WI
Dental Care for Patients In and Around Shorewood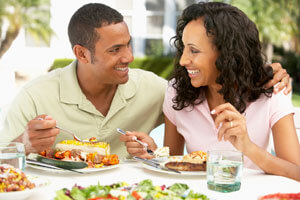 Do you need help restoring your smile's health and appearance? At Shorewood Family Dentistry, Dr. Peter J. Colosimo offer personalized, gentle care for a wide range of needs. Whether you need help with cavities, or you need more advanced help repairing or replacing a tooth, we have options for restorative dentistry in Shorewood, WI that can help.
First, we'll complete a full exam, assess your needs, and then we'll talk about the services that are right for you. If you have questions about anything we recommend, our Shorewood team will be more than happy to answer them.
Our restorative dental services include:
Dental Implants
For patients who need to replace one or more teeth, dental implants are an excellent alternative to traditional crowns, bridges, and dentures. With a structure that mimics nature's own design, they can help patients enjoy more stable and natural results. First, the implant is surgically placed within the bone of the jaw, creating a solid foundation for your prosthetic restoration. Following a period of healing, your final crown, bridge, or denture is attached to the implant(s), allowing you to smile, eat, and speak comfortably and with complete confidence.
Dental Crowns and Bridges
A dental crown is a tooth-shaped cap that can be placed over a damaged tooth to completely restore the tooth's natural shape, size, strength, and appearance. Dental crowns fully encase the entire visible portion of a tooth above the gum line. A dental bridge is supported by two or more dental crowns and is a traditional restorative piece designed to replace missing teeth. Our Shorewood dental office will design your dental crown or bridge to meet your exact needs. A crown or bridge restoration takes at least two appointments to complete, sometimes more.
Learn More About Dental Bridges
Do you need restorative dental help? Call Shorewood Family Dentistry to schedule your appointment with Dr. Peter J. Colosimo. We are happy to offer general, cosmetic, and restorative dentistry to patients in and around Shorewood, Glendale, Whitefish Bay, Bayside, Fox Point, River Hills, Brown Deer, and Milwaukee .